Mastering Elegance: The Men's Slim Fit 3-Piece Notch Lapel Tuxedo
, by SWEETEARING ., 2 min reading time
When it comes to refined and sophisticated attire for formal occasions, the tuxedo reigns supreme. The Men's Slim Fit 3-Piece Notch Lapel Tuxedo represents a contemporary reinterpretation of this classic ensemble, offering a blend of tradition and modern style that's sure to turn heads and leave a lasting impression.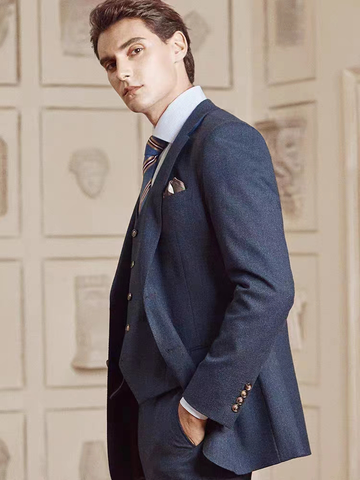 The hallmark of this tuxedo is its slim fit design, which is tailored to accentuate your physique while providing a streamlined, contemporary silhouette. The notch lapel, a departure from the more traditional peak lapel, offers a balanced and versatile look that's suitable for a wide range of formal events.
Versatility is one of the key attributes of the Men's Slim Fit 3-Piece Notch Lapel Tuxedo. No longer is the tuxedo reserved solely for black-tie galas. With the right styling and accessories, you can make this tuxedo work for various formal and semi-formal occasions.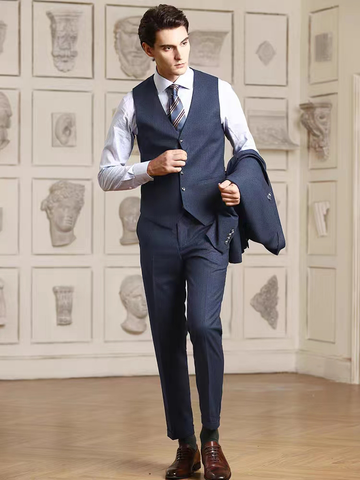 For the most formal affairs, such as weddings, operas, or prestigious award ceremonies, pairing your tuxedo with a crisp white dress shirt, a classic black bow tie, and high-gloss black patent leather shoes is the way to go. The slim fit design enhances your overall presence, making you the embodiment of elegance and sophistication.

When attending semi-formal events like cocktail parties, corporate gatherings, or upscale dinners, you can opt for a slightly more relaxed look. A black silk necktie and polished black leather dress shoes can maintain the aura of refinement while allowing for a more approachable and comfortable presence.

Selecting the right fabric is crucial for both comfort and style when it comes to tuxedos. Wool or wool-blend fabrics are the preferred choices, offering a perfect balance of breathability and comfort while maintaining a sleek and polished appearance. The inclusion of a vest in the three-piece design adds an extra layer of sophistication, giving you that dapper edge.

In terms of color, black remains the classic choice for a tuxedo, exuding timeless elegance and sophistication. However, midnight blue is a modern alternative that has been gaining popularity, offering a fresh and contemporary take on the classic look. Your choice of color should align with the formality of the event and your personal preferences.

Investing in a Men's Slim Fit 3-Piece Notch Lapel Tuxedo is a testament to your commitment to style and elegance. This tuxedo's adaptability, modern design, and slim fit offer a valuable addition to your wardrobe, ensuring you're dressed to impress on any formal occasion. The notched lapel adds a touch of contemporary flair while staying true to the timeless charm of the tuxedo.

Whether it's a grand black-tie event or an intimate semi-formal gathering, this tuxedo empowers you to look your best and feel like the epitome of sophistication. Master the art of elegance with the Men's Slim Fit 3-Piece Notch Lapel Tuxedo, a symbol of modern refinement and timeless style that will never go out of fashion.
---
, by SWEETEARING .

Elegance in Every Adventure: The Charm of Men's Dark Suit in Leisure

, by SWEETEARING .

Sparkle and Sway: Unveiling the Glamour of Sequin Tuxedos at Holiday Parties

, by SWEETEARING .

A Symphony of Joy: The Happy Harmony of Bride and Groom Attire